Interview with RIGEL
It is very rare that Rigel will do an interview, but with so much positivity happening within the brightest stars career right now he agreed to join us on the Psylicious Interview sofa too answer a few questions for his fans.
Known for his quirky production and plethora of remixes and live sets 2019 saw the release of his fifth studio album release on Ovnimoon Records 'Creativity Portals' that has also opened up the portals for Rigels 2020 World Tour.
Now comfortably into 2020 the year has started with an almighty bang for Rigel that includes his recent signing to new Canadian Psy Trance label – Metabolizm Records!
So here we are, reflecting over the past year and what is coming up in the future, keep reading, enjoy!
Rigel many thanks for answering some questions for your fans old and new. 2019 was an epic year for you with plenty of highlights?
Hi there! 2019 was a very creative year, a lot of work, new knowledge and progress in multiple sectors. One of the key aspects for me was the release of my 5th album "Creativity Portals" on Ovnimoon Recs which has had a great response. I've also produced some new collab tracks with Ovnimoon which will be released in the near future. Worth mentioning are some successful gigs I've had abroad and my encounters with old and new friends that music brought us together.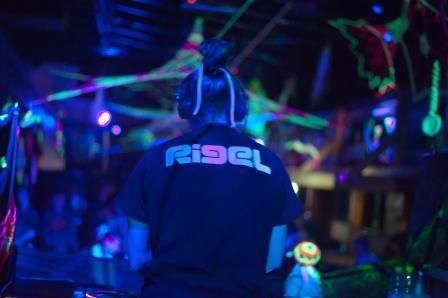 Greece is famous for the music of Vangelis. What inspires you most in music production?
No doubt Vangelis is a remarkable musician that has honoured Greece. However, I'm drawing my inspiration from different music styles. I have a variety of influences ranging from Techno and Trance to Jazz and Funk. I very much enjoy experimental music in any genre.
You are a producer for Ovnimoon Records and also A&R - what qualities do you look for in music that retains the sound of Ovnimoon Records?
Ovnimoon Recs is a label that has no boundaries in genres; it has featured artists that make ambient, psychill, goa trance, full on, forest, progressive, techno & drone music but there is one rule that more or less applies to all and that's with one word musicality. As Ovnimoon suggests, and I agree totally, it has to be a track that has a good flow, interesting story and that takes you on a mystical uninterruptible journey. Having your own character, these days, is also crucial.
2019 saw the release of your 5th studio album, 'Creativity Portals' which rocketed into the top 4 albums in the Psyshop charts. I understand it took five years to complete with many highs and lows during that time getting it right?
Well this album was finished before my previous album release; that's more than 2 years ago. It was only reasonable that I had to wait some time before releasing it. In the meantime, I was revisiting these tracks in order to make final tweaks and in this process my production skills evolved. I have to thank Ovnimoon for his patience! It was worth the wait.
With the release of 'Creativity Portals' being your 5th studio album, I believe this is your final album as you focus more on releasing EPS?
Yes, I feel albums are not as engaging as single releases can be. In a social media focused world, it's more interesting to have a track released every month than waiting 2 or more years for another album. That was my dilemma for this album as well; releasing it as a whole or splitting it into EPs. I might at some point do another LP but for the time being EP is the way to go.
You have recently joined Psylicious Management and combined, launching two tours that encapsulate the release of 'Creativity Portals', with a 2020 World Tour concept and an exclusive 'Creativity Portals' Tour for Australia and New Zealand. It has to be said that Rigel is making magic happen?
Making magic happen, creating portals throughout the globe. I surely hope and looking forward to it! It's a revolutionary approach to the classic "hit play and act" norm. Each track is consisted of 4 channels/stems playing simultaneously which i can control separately via a midi controller with 32 knobs. Every live set will always have each own character! Teaming up with Psylicious is spicing things up! Along my real time tweakage, there will be visual performance by renowned visual artists adding a special vibe to each track performed. Last but not least, Psylicious provides support DJs to make each gig a unique experience!
For the studio porn buffs out there, what studio set up gives your music the 'Rigelized' experience and what are your go to plug-ins?
There is no recipe, the point is having your own character which is hard to achieve and takes time and effort to discover. There is unfortunately no shortcut. As for my own work, I got some analog synths but I rarely get to use them. I'm doing all the sequencing on FL Studio and some of my favourite plugins are Phaseplant, Serum, Sylenth, Fabfilter, iZotope and last but not least the Accusonus stuff. Please bear in mind that it's not the DAW or the plugin you use that makes the magic but rather the way you use it.
You rounded off 2019 with a few mini projects including your immense 'Retro' set for Psylicious Radio that you Rigelized with your quirky magic. What was the concept behind your retro set and can we hear Rigel Retro sets on trance-floors in the future?
I wanted to make a set with some of my favourite tracks of my childhood era, sounding like fresh psy trance, short enough that could fit on a CD for the old school freaks and dynamic as possible as the time limit for CD copying allowed. The selection of the tracks was hard; I wish I could include some more. There was a lot of equalizing and time stretching to make them sound consistent to each other and easier to mix. For sure I will keep playing retro sets as much as people ask me to. In fact there are plenty of parties that enjoy me playing old school stuff.
You have now launched your own Bandcamp and built your own website, offering various services. What can your fans expect to hear and buy? Will there be any new 'exclusive' releases on your Bandcamp?
I'm really interested in releasing particular tracks exclusively for the people who want to buy them directly from me. That builds a personal relationship with my fans and of course they purchase something that is not widely available. I think it's also a nice way to go back underground as the scene has become a bit main-stream; music released for the few rather than the mass.
2020 has already kicked off for you, playing NYE in Switzerland and also joining a very new but yet dynamic Canadian label, Metabolizm Records?
I love playing in Switzerland, bringing the New Year in with them was epic and such a great launch into 2020! I have also joined Metabolizm Records, which is a new label based in Canada that has done some eclectic releases last year and has set a great path for 2020! So yeah, really exciting stuff coming up!
Rigel it has been a pleasure chatting with you for all your fans to enjoy - any words of wisdom for the year ahead?
Thanks for having me as well mate! Do what you love and love what you do! Our universe has a way for everyone. This is Rigel and I'm signing off :) !
Support Rigel by visiting the links below.
Psyshop | Discography | Twitter
Facebook | Soundcloud | Youtube
Images courtesy of Rigel, Ovnimoon Records & Metabolizm Records. Interview feature by Psylicious. Not to be reproduced without permission.