Interview with Psibindi
Rena Biring aka Psibindi is nothing but a rising star. Music has been flowing through her veins since childhood. Classically trained, multi-talented, combined with a flare of creativity that continues to push Rena forward to this day, from her days of recording her first track with her uncle at the age of 11 and then in her teens winning a scholarship with the infamous Silvia Young Theatre School.

Rena's hard work has certainly paid off; she's a DJ and producer in her own right as Psibindi and lead vocalist for psychedelic & electronic chill band, DHUNA.
Not stopping there she took helm and established the all-female blazing Psy-Sisters concept.

As a DJ, Psibindi sets are driving, as she delivers audio psychedelic tonics created to hook you in and pick you up within the whirl-wind of euphoric beats that she creates as she ignites yet another trance floor!

Consistency is the key to any ones success and Rena has certainly shown this to be true. As the blood, sweat and tears fade away of sheer hard work, Psibindi's future is brighter than her Binary Star. With her EP 'Elliptic' just released on Beatport, an album in the pipeline and plans for a live set, not forgetting her recent performance with DHUNA at this year's Earthdance, when does Psibindi put the brakes on I hear you ask?

Her brakes are on! She's here! It gives me great pleasure to introduce Rena Biring aka Psibindi to the Psylicious interview table to find out much more!

Rena it's great to finally have you here, thanks for putting your brakes on to answer some questions. How has your year been so far?
It's been a whirlwind year so far, which kicked off in February with the second edition of Psy-Sisters. Our arts collective featured 18 female DJ's on the line up, which was an extraordinary achievement for us. We also released our debut VA entitled 'Ensoulment', compiled by Canadian artist Kloud Nin9. 'Ensoulment' features tracks from top female producers including Pollyfonika, Twisted Kala, Tyndra and Kloud Nin9. My collaboration with Brazilian duo Mentalogic (aka FluorEnzo & Thallom) is another track also featured on the album.

This year, I ventured into Drum and Bass with a debut release on new label Figment Records. The track 'Hamare Sunrise' is a collaboration with DnB artist and Figment Records label manager Astral Valley (Nick Sagar-House).

I have had some great gigs this year too. Playing at Tribe Of Frog was a great experience, followed by a 4 hour set at Inspiral, performing as both Dhuna and Psibindi.
Dhuna also recently performed at the legendary global peace party Earthdance. It was our first major gig together with our new percussionist Sebastian and also the introduction of my new vocal processor unit; both bringing fresh elements to the music. We had a really enjoyable set. I also officially launched my brand new EP 'Elliptic' at Cohesion recently.
European gigs this summer include Dharma Festival and Shiva Space Technology in Poland. I visited Finland for the first time this year thanks to Psy-Sister DJ and producer Cini who invited me to play at Re-Birth. I have just recently returned from Mallorca after playing at Solar Cycle (Psyara), which was definitely one of my best gigs to date. Superb energy!
Other highlights include being featured in 'Thump' online music channel. The feature focuses around Psy-Sisters and was written by Frankie Decaiza Hutchinson, founder of US based female DJ collective 'Discwoman'. She wrote an insightful feature about our collective and the perception of Psy-Trance in the US.
Finally, my release 'Elliptic', a third collaboration with top artists Aphid Moon and Mechanimal has just been released on Beatport. The EP recently entered into the Top 10 new releases. The track Elliptic was also listed as number one track in the weekly Beatport Must Hear Psy-Trance releases chart.
It's been a rewarding end to a busy summer!

From a child music has literally flowed through your veins. What hooked you into music from an early age?
Music is in my DnA! Apparently when I was very small, I loved singing along to songs and my Mum tells me that 'Jolene' by Dolly Parton was a favourite! My understanding of music developed at 5 years old whilst learning to play the recorder at school. I remember learning to play 'Amazing Grace' and suddenly it clicked. After that, I joined all the school choirs and took up the clarinet so I could join the school band. It really benefited me learning to read music from an early age.
My parents encouraged me further by getting a small Yamaha keyboard for me. The first tune I learnt to play by ear was the Eastenders theme tune! I then started writing songs on my keyboard by the age of 10. I also had fun writing with my younger sister Reshma and best friend Davina so we started a band! My Dad recognised my passion for music and brought me a Yahama QY10 music sequencer, so I could start developing my songs. I was fortunate to have an uncle who was a music producer. He liked my song ideas and gave me the opportunity to record my songs in his studio. That's how I started my recording career. I was just 11 years old when I recorded my first song and I can still recall the excitement of being in the studio. Music has been the fabric of my childhood and it is what I live for. If it wasn't for my Mum and Dad's belief in me, I wouldn't have pursued the dream.
I recall a conversation we had in Poland back in 2013, you mentioned it had been a journey of blood, sweat and tears. When you look back at those times to where you are at now, how does that inspire your ethos today?
It makes me even more determined to be honest! I am not someone who is complacent. I believe in working bloody hard to succeed and yes, I have come a long way since my early career days, however I am still not where I want to be yet. There's a lot of ambition and drive fuelling me. I am grateful for the past 25 years in music, which have given me valuable experiences and taught me about the music industry. All the experiences, setbacks and achievements have shaped my career to where I am today.
You're signed to Aphid Records and already released EP's with them. What does Aphid mean to you and the sound of Psibindi?
Aphid Records was founded by my good friend and Psy-Trance maestro Aphid Moon (Jules Hamer). I have known Jules for approximately 15 years. We were introduced by our mutual friend Dick Trevor who suggested that we work together in the studio. At the time I was in a band and we wanted to make experimental songs with an 'edge'. We recorded a track with Jules which turned out surprisingly well. I could hear the psychedelic influences in his production and instantly knew that I wanted to work more with Jules. Today, we enjoy pushing the boundaries when it comes to producing Psy-Trance. I think our tracks have a unique and distinctive style with real depth. When we team up in the studio, we literally start on a blank canvas with no preconceived ideas about how the track is going to sound. We share similar musical tastes and a penchant for Pink Floyd! This certainly steers the direction.
I owe a lot to Jules and Silvia (Aphid Records). They have both supported me so much over the years and I am truly grateful for their friendship and love.
I hear you have a new EP 'Elliptic'. What will Psibindi fans and followers expect to hear from you with this release?
You can expect to hear more experimental Psy-Trance layered with my vocals and new effects. I teamed up again with Aphid Moon and Mechanimal because not only are they great producers and good friends, our music also evolves with each release with beefier kicks, driving bass lines, warping psychedelic sounds and deep melodies.
DHUNA is a band that really stands out when it comes to those chilled down tempo beats. How did your relationship with DHUNA transpire leading you to become their lead vocalist?
I met Dhuna creator, pianist and composer Dariusz Stawicki back in 2010. Dariusz was looking for a female singer to work with. We were introduced by Robert from Arkona Creations. I first heard Dhuna's music in the studio and was drawn to Dariusz's beautifully crafted tracks, combining live elements such as piano and percussion; and blended into an electronic symphony. I was instantly inspired and began improvising my vocals over the tracks. I had learnt lots of new vocal techniques thanks to my singing guru Ustad Latafat Ali Khan, (who I have been having regular singing lessons with for 14 years now). I was able to bring his classical indian teachings to Dhuna, and this led to multiple recording sessions and eventually the album 'No Doubt' was born. I really enjoy being in the band and performing live. Our music is also evolving and we are looking forward to getting back into the studio to finish our third album and prepare to tour again next year.
Poland is a special place within my heart and also yours. It's great to see that you are playing there on a regular basis. The vibe and energy the Polish create is certainly special. What are your views on this?
Poland is a very grounding country. The party scene is fresh and exciting. It reminds me of how the scene in London was 15 years ago; exuberant parties which thrived on that psychedelic energy. Poland has some beautiful and historic places. I have been very fortunate to tour around Poland on different occasions. It's one of my favourite countries to visit. The people are also great fun. Just watch out for the Polish vodka!

You have played gigs in so many places and so many countries. Two gigs that stand out are of cause Dharma and Inspiral that you have recently played at. Tell us more about these.
Dharma is an organic festival created from pure heart. The location this year was stunning, surrounded by strawberry fields and lush green landscapes. I had a fantastic time. The festival gets better and better each year and will continue to grow. Inspiral was a special 4 hour set which was split into two hours live performance with Dhuna followed by my DJ set. It was a humbling experience to have an evening hosted especially for us, with a great audience and support from our friends.

You recently performed at Earthdance as DHUNA. Last year, you played under your DJ guise as Psibindi. How does it make you feel to be involved with such a pivotal music event?
It's an absolute honour to be a part of Earthdance. I have a lot of respect for DJ and Earthdance promoter Shakti (aka Natalie Slater of Trancendance). This is a big event to coordinate, and she does it with professionalism and grace. There is real spirit in these events because the incentive is to raise the consciousness vibration with the global prayer for peace which takes place simultaneously around the globe, as well as raise money for a worthy charity. This year homeless charity Thames Reach was selected.

Performing as part of a 'Global Dance For Peace' that is simultaneous in over 100 cities around the World must be a mind blowing experience for you? It certainly is the largest dance party on the planet!
Yes, it is mind-blowing! The prayer for peace moment is very powerful. You can really feel the energy that is being transmitted.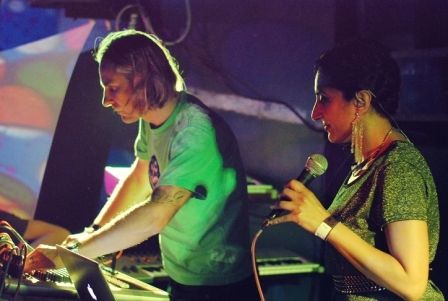 Some of your future plans include releasing an album and paving the way for Psibindi Live sets as well as a Psibindi tour. Tell us about these concepts and when are you expecting to launch each?
My album and live set will be ready to launch next year. I am mapping out the best technical set up for my live set and building my recording studio, which will mean that I can soon dedicate more time to writing and producing. I plan to tour with my new live set once ready.

Rena it has to be said that your drive and consistency is admirable with so many concepts and projects on the go when do you put the brakes on and when you do, what do you enjoy doing the most away from all things music?
There isn't much downtime in my world, so I have to plan it in! When I do have those moments, then I enjoy socialising with friends and family, hitting the shops, Akram Yoga, meditation, reading, watching horror movies, documentaries and Eastenders (it's gripping drama!)

Rena it's been fantastic catching up with you today, many thanks for your time and before we finish here, do you have any words of Psibindi wisdom you would like to share with us all?
Embrace every opportunity in life with humility. Support one another so that we can all achieve our goals and aspirations.


Buy the Elliptic EP at Beatport
Follow Psibindi On Line:
Photo credits:
Solar Cycle: Victoria Psyara Dhuna Earthdance: Sati
Images courtesy of Rena Biring. Interview feature by Psylicious. Not to be reproduced without permission.